MINGEI – Horizon 2020/DT-Transformations

MINGEI - Horizon 2020/DT-Transformations
"art of the people for the people"
Mingei will explore the possibilities of representing and making accessible both tangible and intangible aspects of craft as cultural heritage (CH). Heritage Crafts (HCs) involve craft artefacts, materials, and tools and encompass craftsmanship as a form of Intangible Cultural Heritage. Intangible HC dimensions include dexterity, know-how, and skilled use of tools, as well as, tradition, and identity of the communities in which they are, or were, practiced. HCs are part of the history and have impact upon the economy of the areas in which they flourish. The significance and urgency to the preservation of HCs is underscored, as several are threatened with extinction.
MIRALab contribution
MIRALab brings expertise on autonomous 3D virtual characters, motion capture and hand tracking. It will be responsible together with IMA for the development of mobile AR experiences for the pilots.
MIRALab's main contribution (I):
WP5 – DEVELOP & EXECUTE: Build Toolkit and Platform
Task 5.2 Real-time body tracking
Partners involved: FORTH, ARMINES, MIRALab
Expert gestural data will be visualised in a 3D environment and integrated in a storytelling process, enriched with additional elements about the craft in general. Visitors will be invited to reproduce the gestures/actions virtually, to manipulate basic tools and their gestural performance will be captured with low-cost motion capture sensors.
Task 5.3 Gesture and action modelling, recognition and comparison
Partners involved: FORTH, ARMINES, MIRALab
Extension of the existing HMM-based engine for modelling and recognition of upper part of the body gestures and actions.
MIRALab's main contribution (II) :
WP6 – EXPERIENCE, LEARN & EXPRESS: Narratives and storytelling for novel craft experiences in CHIs
Task 6.1 Autonomous, transformable 3D virtual characters.
Partners involved: FORTH, MIRALab
This task will develop a 'True-AR' real-time rendering framework for articulated virtual characters to act as storytellers in the context of HC experiences.
Task 6.3 Mixed Reality for experiencing the gestural know-how of the object.
Partners involved: FORTH, ARMINES, MIRALab, IMA
This task will develop a MR Training Surface for HC education. The main concept of this surface is the capability to recognize (a) the tools used in the process of craft making, for each HC and (b) the actions performed by humans using these tools.
More about MINGEI project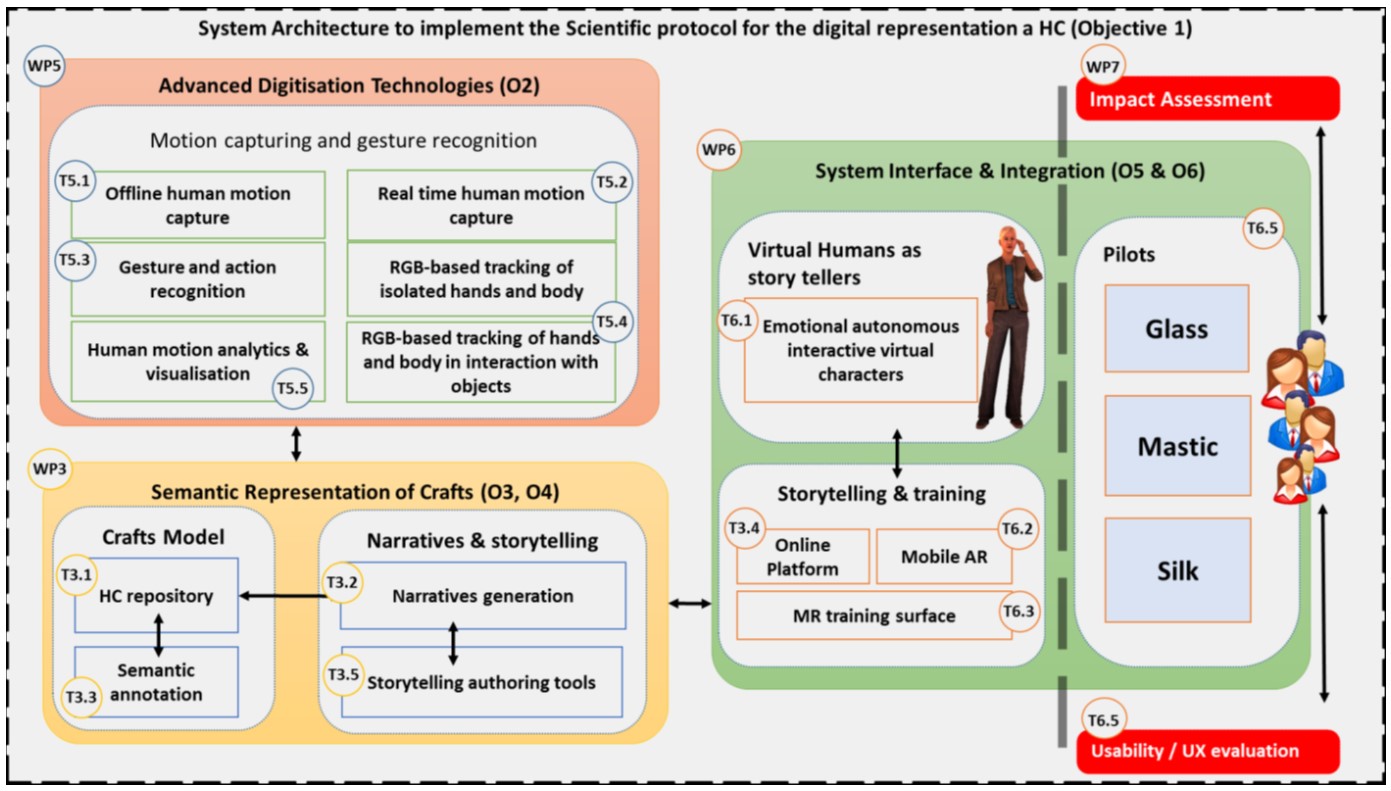 Avatars creation > 3 craft animations > 3 avatars

Mocap file postprocessing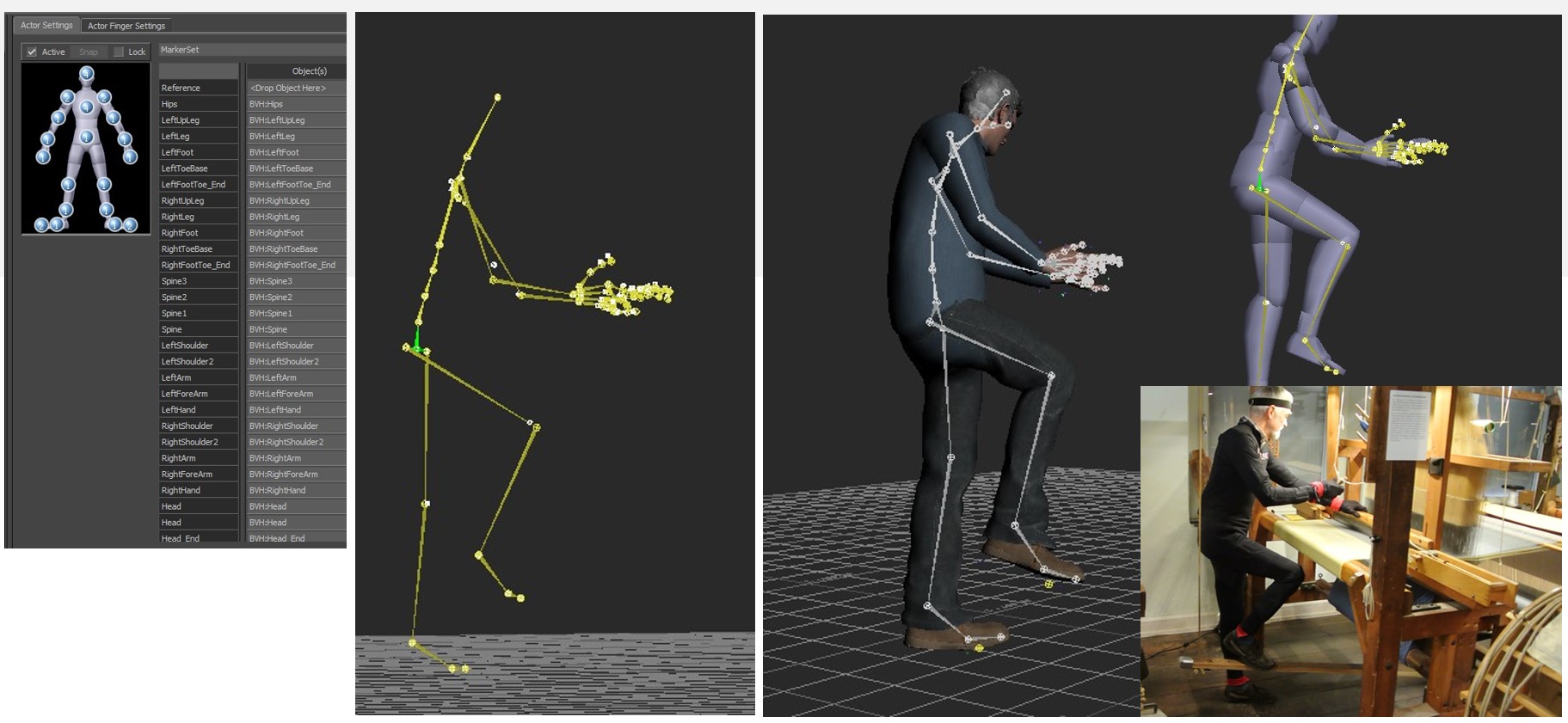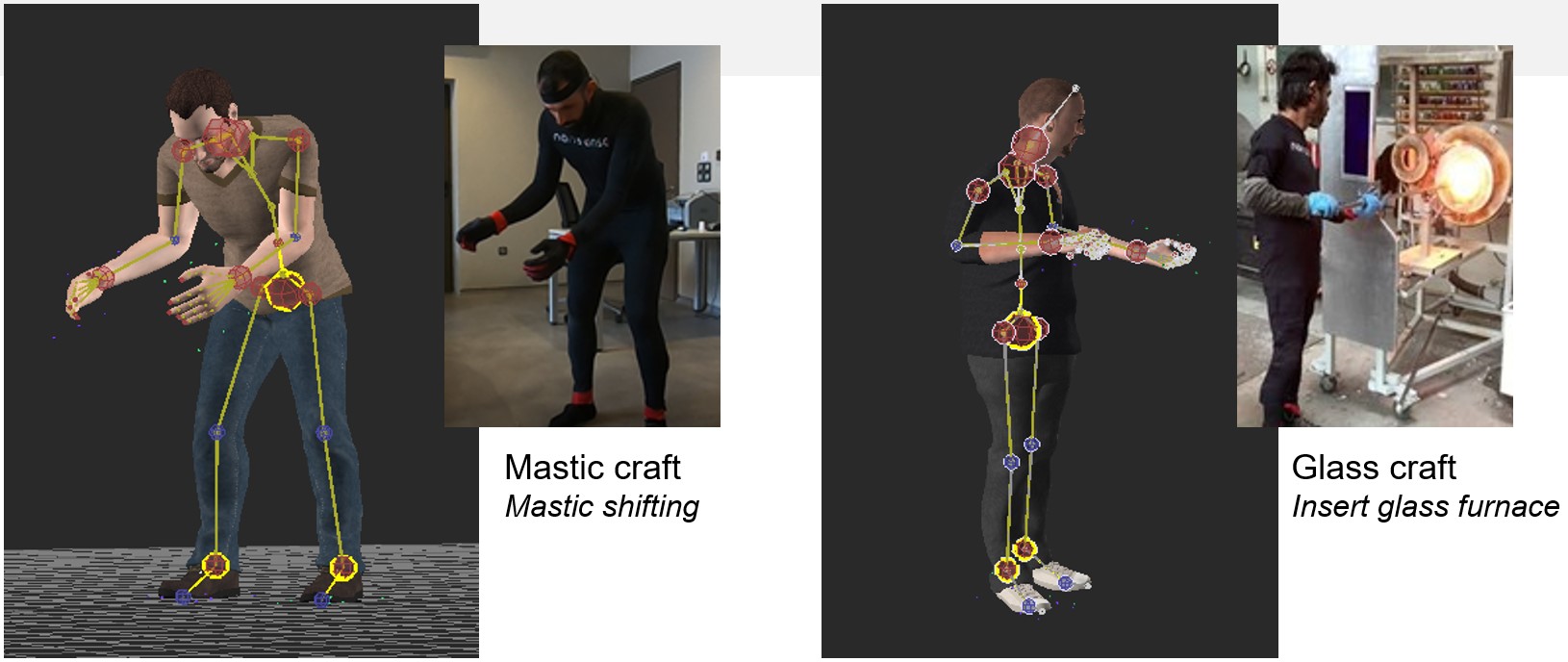 Creation of fully rigged and clothed avatars for storytelling application / Machines area – Chios Mastic Museum